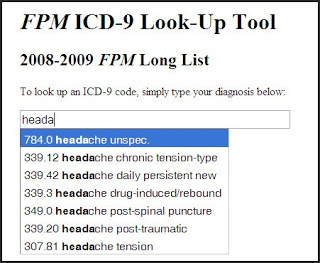 If I can't get a list with predictive search (where the search field starts guessing what I want from the few characters I've typed so far), then at least give me a heads-up list on one page. Make the list short and comprehensive enough.
I want to find about 80% of my commonly used diagnoses on one page, then multi-select all the diagnoses that I need, and then click "OK". If I can do that, I will be very happy. I've seen it done in at least one EMR.
See, I'm not hard to please.
How would you build the list?
Make a fairly comprehensive list first, sorted by how often I (or family physicians in general) select that diagnosis.
Then create the list on a page or two.
Then add columns (to allow more items) and shrink the font until it is still readable. Test readability with a few 50-60 year old users wearing bifocals.
Trim the list to one (or two, A-L and M-Z) pages.
What are the user-centered-design principles?
Get it on a single visual plane in plain sight. (expand to a second page, if needed, or if users wanted it).
List alphabetically. Avoid organ system grouping, which takes more cognitive effort and more visual scanning time.
Use simple, frequently-used-by-clinician word choice (e.g. "headache" instead of "cephalgia").
Put most relevant words first (e.g. "diabetes mellitus, type 2", not "type 2 diabetes")
Make font big enough to read.
Eliminate words that don't add benefit for user (e.g. for "250.41 Diabetes 1 w/ renal changes", do include "w/ renal changes". For "250.00 Diabetes 2 uncomplicated", I'd argue that the "uncomplicated" is optional, and takes up space).
The single page has some advantages over the predictive search, which can only do one diagnosis at a time.
I don't have to use the keyboard.
I can select 6 diagnoses with only 6 clicks.
I press OK once, and not 6 times.
I can go a lot faster.
I'll develop muscle memory finding the commonly picked items on the page (could pick them blindfolded!).
Go ahead. Make my day.